---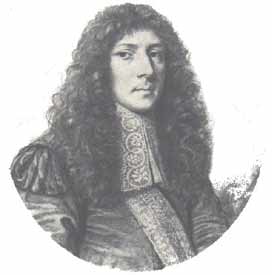 This section has some articles about the more scholarly aspects of Wansdyke, such as its probable date, purpose, alingmentments and ways of construction. Also, about the strategic questions that arise: who were the enemy, is this earthwork anything like Hadrian's wall, etc. But the human element will not be forgotten: who gave the order to undertake this massive project? Were it the concerned Late Roman citizens of Wiltshire? Or a powerful landowner, such as Ambrosius? Or might it have been Arthur himself?
Here are also articles about other earthworks such as Offa's Dyke and Wat's Dyke, whose construction may be related in time or in purpose to that of Wansdyke.
The image shows John Aubrey (1626-1697). He was an English antiquary and miscellaneous writer, born in the hamlet of Easton Piercy in the parish of Kington St Michael near Chippenham in Wiltshire, and educated at Trinity College, Oxford. Aubrey wrote the first worthwhile description of Wansdyke in a collection of stories and folklore, the Natural History of Wiltshire.
---
Current Contents (grey ones in preparation):
Articles about Wansdyke:
Articles about other earthworks:
Gardner, Keith S. (2008): A short obituary.