---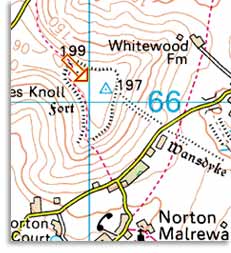 This part of the Wansdyke Pages contains the full description of Wansdyke - its alignment, current condition and alternative views. we shall start from the hillfort of maes Knoll, bristol, Somerset, passing Bath and the Avon valley to the Marlborough Downs, Wiltshire. Maps and pictures are added when available.
Also, I aim to make access to the visitor as easy as possible. Every section comes with a full description of how to get there, accompanied by maps from UkStreetmap.co.uk that should enable the visitor to reach any point of Wansdyke described here.
The image shows Maes Knoll hillfort, generally considered to be the most western point of Wansdyke.
---
Current Contents:
West Wansdyke
'Mid' Wansdyke / the Roman road
East Wansdyke